No Clouds or Costs
This means that no one has access to your data but you, plus you never have to pay a monthly fee for cloud services.
Sends Pickup Reminders
Video Doorbell Dual will remind you if you forget your packages, so you can call someone you trust to pick it up
Always Scans for Packages
Get notified when a package arrives, or if anyone approaches your package. You can even call your emergency contact for help directly from the eufy Security app.
Get Accurate Alerts with Dual Detection
With accurate Dual Motion Detection, false alarms are reduced by 95%. Radar motion detection scans for movement. PIR motion detection scans for body heat.
See in Any Lighting Condition
With high dynamic-range (HDR) visuals, even visitors backlit by the sun can be seen in perfect color and clarity.
See Detailed 2K HD
Identify who's at the door in a split-second thanks to the power of 2K HD.
Delivery Guard
Video Doorbell Dual's exclusive Delivery Guard™ instantly notifies you when your package arrives and sends you pick-up reminders so it's never abandoned. Plus, you'll get alerts when anyone approaches your package, so you can respond immediately.
Two Cameras, Zero Blindspots
While Video Doorbell Dual's frontward-facing camera focuses on the courier, its downward-facing camera sees your package. And you can even move that second camera left or right for an almost unlimited view of your porch.
Power
3-6 months (Battery life is based on user scenario)
Video Quality
Front Camera: 2K (2560 ×1920)
Package Camera: 1080p (1600 × ️1200)
Motion Detection
PIR & Radar detection
Audio
Two-Way
Operating Conditions
IP65 weather-resistant
-4° - 122°F
Dual Camera
Front Camera: 160°
Package Camera: 97°
Weight
With HomeBase: 3.67 lb
Without HomeBase: 2.12 lb
Size
6.5 × 2.1 × 1.1 in
Smart AI Support
Human, loitering, & package detection
Connectivity
802.11 b/g/n Wi-Fi connection @2.4GHz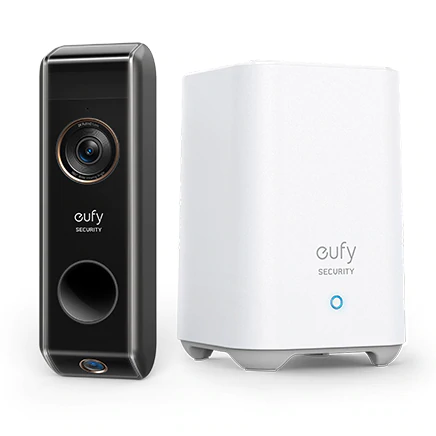 Video Doorbell Dual (2K, Battery-Powered)
Dual Cam
Package Detection
Dual Motion Detection
2K Resolution
HDR
HomeBase with Expansive Wi-Fi Range
Compatible with Existing Chime
Battery or Hardwire
Local Storage and No Monthly Fee
Video Doorbell 2K (Battery-Powered)
-
-
-
2K Resolution
HDR
HomeBase with Expansive Wi-Fi Range
Compatible with Existing Chime
Battery or Hardwire
Local Storage and No Monthly Fee
Package Detection
Package detection and facial recognition are heavily influenced by the environment and human behavior.
Battery-Powered
The battery doorbell cannot be used as a wired doorbell. If you would like a wired doorbell, we will begin selling this version in late March.
1x Video Doorbell Dual
1x Screw hole positioning card
1x Home Base 2 (E8213181)
1x 15° mounting wedge
1x Screw pack
1x Detaching pin
1x Mounting bracket
1x Warning sticker
2x Power pin
1x Micro-USB charging cable
Our advisors have the answers
We're deeply into the gear we sell. And we're the first to admit: it can sometimes seem complicated. That's why we have more than 150 friendly, knowledgeable advisors in New York ready to help by phone, text, or chat. If you ever feel stuck or need a second opinion, give 'em a call.
The right advice – for you
Our advisors are led by one defining principle: help our customers find the products that are right for their needs. Upselling and trying to push customers toward specific products that aren't a fit for them just isn't our thing.
Hands-on experience
We want our advisors to get as much experience with the gear as possible. That's why we give them over 300 hours of training, along with lots of other opportunities to try out the gear. And of course, they get practice installing smart home products.
GET HELP
Protection Plans
starting at $5
Covered by Vidlogix
If your gear is damaged or breaks from normal wear and tear or accidental handling, the cost of repair or replacement will be covered. Vidlogix handles all processing, claims, and follow up.
Plans are competitively priced to meet your coverage needs. Plus, there's no middleman or lengthy approval process–which means approved claims are settled in days not weeks.
Add Plan
Learn More